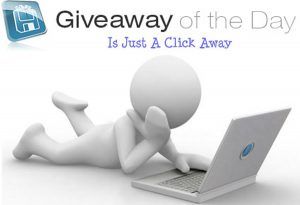 The Giveaway of the day project is a new initiative in software distribution around the world. Every day offers Free Licenses for software that you would otherwise have to buy! Giveaway of the day, is open to its visitors and ready to give away the best software in the world. Basically the site offers you one free program per day ! Also for Giveaway games there is one free game per day.
Every day a piece of software is identified which will be the Giveaway title of the day. The program will be available for 24 hours to download (or more, if allowed by the manufacturer) and that software will be free. This means that it is not a trial or limited version, but a registered and legal version, free for visitors.
The product will be offered without limitations except for those
provided for in the Terms and Conditions paragraph.
The download link will remain on the site for the specified period together with the product review and information on other products from the same manufacturer.
Both the reviews and the manufacturer information will remain active even when the giveaway period has expired.
Information on the Giveaway of the day and the participants in the initiative will be published in the site 's newsletter and distributed to site visitors and subscribers.
How can I participate in the Giveaway of the day?
Is simple! Visitors will always be informed about the initiative of the day and its producer. The following week's information will be posted on the Giveaway site ; all subscribers will receive this information in the weekly newsletter. Plus the internet itself will help spread information around the world.
Go to the site >>
You may also like