Introduction on how to block Pop Up windows in Internet Browsers
Many people have problems with Internet browser pop-ups, those annoying little windows that pop up everywhere even without your consent. Pop-ups – whether pornographic, spam, or just plain useless – are a nuisance and a danger to your computer. However, they can be effectively neutralized with the right steps. This article describes various ways to block pop-ups.
How to block pop-ups in browser
firefox
Enable pop-up blocker in Mozilla Firefox. Like many other browsers, the pop-up blocker should already be enabled by default. If for whatever reason this is not the case, go to Firefox > Preferences > Content and then hit the "Block Pop-Up Windows" option.
internet explorer
Turn on the pop-up blocker in Microsoft Internet Explorer. To block them, click on Tools>Options>Privacy and then check the "Block pop-ups" option.
Chrome
Turn on the pop-up blocker in Google Chrome. Google Chrome should automatically block pop-ups by default, but you can always make sure the setting is turned on by clicking in the Chrome menu, then choosing Settings > Show Settings > Advanced > Privacy > Content Settings > Pop-Ups and then ticking the recommended option "Do not allow pop-ups to appear on the Sites".
Safari
Turn on the pop-up blocker in Apple Safari. Open Safari and then click Safari > Preferences > Security. Select the "Blocking Pop-Up Windows" option.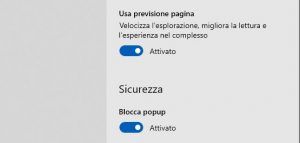 edge
Block pop-ups in Microsoft Edge
In the new Microsoft Edge go to Settings > Privacy and security > Security > block pop-ups
Turn on Block.
Block popups via browser extension
Popup blocker for chrome:
Most effective pop-up blocker for streaming sites, torrent sites, and adult sites.
A unique algorithm recognizes the correct block for each specific website allowing for industry-leading accuracy in both new tabs and new windows
Discreet notifications will let you know when a pop-up has been blocked
It requires little CPU and memory, works complementary to AdBlock extensions
How to install it:
Edges:
The extension is available for free in the Windows Store.
Extension: Popup Blocker
This is a lightweight extension to stop websites from opening popups (whereas other popup blockers block them only after generating them and not during the request). The extension blocks all requests to open popups informing the user. You can accept or deny each individual request. Multiple unique requests appear in one block. If websites request a single URL multiple times, the number of requests is displayed.
What you can do:
Blocking popup requests.
Allow popup requests.
Open popups in a new tab.
Redirect current page to popup page.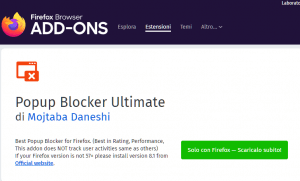 For firefox:
Popup Blocker Ultimate
https://addons.mozilla.org/it/firefox/addon/popup-blocker-ultimate/
from this page you can download and install the extension.
Popup extension for safari

:
Adblock Plus is a plugin to block the display of advertising content for Safari. Extremely powerful and configurable. While browsing, you may want to remove the advertising banners on the sites from the screen. While not fair to those who live in advertising, the use of adblockers in browsers around the world is spreading like wildfire. There are many reasons, and whatever they are, Adblock Plus helps you remove ads from the pages you're visiting, leaving white space in their place.
Adblock Plus works thanks to a practical filter system. You can choose from the predefined ones or modify them according to your needs.
Free pop-up blocker software
You can use pop-up blocking software if your browser does not block them as required. Sometimes, for various reasons, your browser's pop-up detection may fail and a couple of ads may still appear. Most of the time fixing this problem is simply a matter of having your browser options turned on. Sometimes, however, for added security, we recommend downloading software to do this job for you.
AdFender
Block all types of ads
Block malvertisements
Block online trackers
Browse anonymously
Speed up web browsing
Protects online privacy
Remove profiling cookies
Smart Pop-up Blocker
Smart Popup Blocker can intelligently kill those unsolicited pop-ups, pop-under ads and Messenger spam but never interfere with your normal browsing. What's more, Smart Popup Blocker can automatically clean cookies, protect homepage.
Potrebbe interessarti