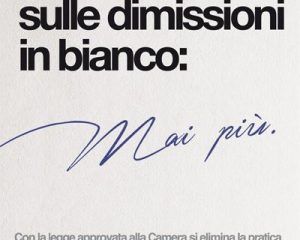 No more blank resignations – This is the phenomenon whereby the worker is forced to sign resignations which the employer will then use when it is most convenient for him. Now it will no longer be possible, because – as Minister Poletti explains – "we tell the employer: if you give us a sheet with the worker's signature, that sheet is not valid for us, we need to get a special form signed, with the date and number, prepared by us".
Legislative Decree no. 151/2015 introduced a new simple and traceable procedure in cases of employee withdrawal from the employment relationship (resignations and consensual resolutions) with the aim of countering the phenomenon of "blank resignations", which penalizes particular categories of male and female workers.
In addition to the procedures aimed at providing greater guarantees to the worker, a further system of sanctions created ad hoc is introduced in the event of abuse.
Starting from the 60th day following the issue of the implementing Ministerial Decree, resignations or consensual resolutions must be carried out exclusively electronically, with the exception of domestic work or cases of resolution following out-of-court settlement.
The implementation Ministerial Decree will indicate which identification data must be included in the forms and the methods for sending the latter. The possibility of sending via patronages, trade union organizations, certification commissions and bilateral bodies is envisaged.
Once sent, it will be possible to revoke the resignation or consensual resolutions within 7 days.
The previous provisions of Law 92/2012 will be repealed 60 days after the entry into force of the Ministerial Decree.
From a disciplinary point of view, in the event of alteration of the data by the employer, this will be punished with an administrative fine ranging from 5,000 euros to 30,000 euros.
Potrebbe interessarti