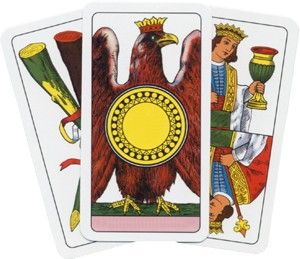 Burraco.com
The burraco.com portal offers game enthusiasts the opportunity to sign up, download the software and play it for free from their PC.
It also includes a Blog section, to explore issues concerning the game of Burraco.
The loner
This site contains a lot of solitaire games. The site is fully adapted to mobile phones and therefore can be played on all mobile devices, from mobile phones to laptops or PCs.
Tressette online
It is the site of a community entirely dedicated to tressette where it is possible to play for free against the computer or other users, both to win and to lose.
Download card games download
Free download card games to download, Briskola: Play briscola against the computer, and many other downloads.
Play briscola or tresette online!
You can play briscola a call online, you need to register, you can choose which cards you can play with, you can also play tresette.
Biska
Briscola and Tressette online, played for free, online, without downloading various programs and above all with avatars that speak and whose clothes, hair and voice can be changed. Texan or texas homd'em online poker is a must, organized in tournaments with tables of 2, 4 and 6 players.
Burraconline
Burraco is a wonderful card game and this is the first Italian site that allows you to play online with your friends even if they are thousands of km away.
Texasholdem.it
It offers strategies, tips, rules and theory of Texas Holdem. It features tournaments and poker players. World Championships. Offers a glossary.
bridgemania
Free bridge lessons.
School of Bridge
Bridge online short course.
You may also like