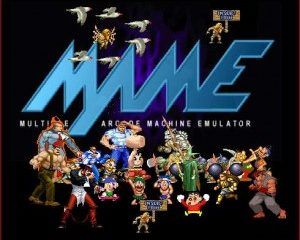 MAME
MAME stands for M ultiple Arcade M achine Emulator. When used in conjunction with the ROM data and disc images of the original arcade game, MAME attempts to reproduce that game as closely as possible on a more modern general-purpose computer. MAME can currently emulate several thousand different classic arcade video games from the late 1970s through the modern era.
The MAME source code is available for development and learning purposes. Most of it is free and open source.
MAME's main purpose is to be a reference point for the inner workings of the emulated arcade machines. This is done both for educational purposes and for preservation purposes, in order to prevent many historic games from disappearing forever once the hardware they run on stops working. Of course, in order to preserve the games and demonstrate that the emulated behavior matches the original, one must also be able to actually play the games. This is considered a nice side effect, and is not MAME's primary goal.
Thanks to the generosity of some of the original creators of the classic games that MAME® can emulate, several games have been released for free, non-commercial use. Our hope is that in the future, we will be able to add more games to this list.
At this link you can download ROMs
MAMEchannel
MameChannel.it – Everything for MAME, Files downloadable directly from the site server. Site and Forum in Italian. Italian site dedicated to MAME (acronym for Multiple Arcade Machine Emulator), a software for personal computers initially developed for MS-DOS and then continued for other operating systems.
Romulation
A site stocked with lots of free ROM files for Nintendo DS and flash cards for Nintendo64 and Game Boy Advance.
Emulation64
This English-language site provides news and resources for emulation. There are files to download organized by type of platform. It is possible to search the database through an internal engine, possibly selecting the platform of interest.
You may also like