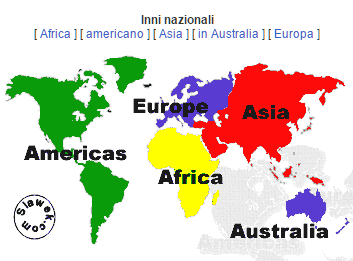 National anthems mp3
The site has mp3 national anthems for various countries and territories. All files are in mp3 format, you can download national anthems in mp3 format. The site, through a clickable world map, presents the mp3s of the national anthems of all the countries of the world, accompanied by text. A nice resource to know all the hymns in the world.
National anthems in midi
You can download national anthems in mp3 from all over the world, even those from the 1800s , and you can also hear files in the midi version. For each national anthem, you will find the history of the anthem with the authors and the year in which it was composed and adopted, the midi file of the piece, the lyrics and the score.
Olympic anthem
The Olympic anthem was officially adopted in 1954, but due to controversy, the initial Olympic anthem was unanimously adopted as the official Olympic anthem at the 1958 meeting of the IOC. Written in Greek, the IOC's preference is that the Olympic Hymn be performed in English or Greek. If it is to be performed in the local language, it must be translated from the original Greek, rather than from English.
Videos of the World Cup anthems from 1978 to 2010

Video anthem of the Brazil 2014 World Cup
Videos of some Serie A anthems
You may also like